BAD began in the fall of 2002 when a group of women were discussing their desire to get together for happy hour on a regular basis. Given the lack of women's venues, Dede Frain, consummate networker and tireless organizer, sent a single email invitation for a "December Happy Hour". After the second happy hour, Dede realized that the network was growing fast and she officially started First Friday. Her dear friend Ellen Keating coined the "Babes Around Denver" name and "BAD" was formed! First Friday has grown dramatically over the last six years with attendance now exceeding 1,500 women, ranging in age from 21-75 EVERY month.
Upcoming First Fridays events
November First Friday "Throwback Party 80's and 90's"
It's First Friday next week and it's our first 80's and 90's Throwback Party so get your big glasses/shoulder pads/big hair/grunge and whatever else together and party with 1500-2000 of your closest friends! EVERYONE IS WELCOME AT FIRST FRIDAY!
Featuring:
DJ's Tatiana, Shannon, Markie andBlaque Girl will be spinning music for everyone from country (EXDO – 6-10), Retro (Tracks 8-10), Top 40 and all kinds of dance (Tracks 10-2) and more dance beats in EXDO (10-2)
Go Go Dancing by The Wicked Little girls
Patio Open – Food Truck
Cover only $5 from 6-9 and $7 from 9-close
Still going strong after 14 years and still Denver's best entertainment value.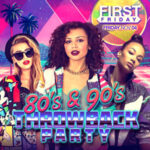 #badfirstfridays on Instagram